It's no secret that dermatologists have the best tips for curating a well-rounded skincare regimen. Yet, Dr. Macrene is known as the leader among dermatologists; her quick mind that captures the needs of each individual patient to craft a spot-on routine that keeps their skin perfect for years.
Dr. Macrene's Basic Tips
Wash with lukewarm water in the morning, apply your moisturizer of choice straight away and if you are using MACRENE actives and want extra care, apply the serum directly afterwards. Once these absorb, apply your tinted moisturizer next. If you will be out in the sun, apply sunscreen on top 15 minutes before exiting and reapply as needed. When you return home in the evening, wash with MACRENE actives cleanser or your medicated cleanser of choice with lukewarm water, pat dry and moisturize again immediately. If you use acne or rosacea medications, apply these in pea size amounts before bedtime. 
One-Step Option: The Serum
For so many of us, travel, work, responsibilities and children get in the way of a full course regimen. For this reason, Dr. Macrene made her High Performance Serum the best One-Step Skincare Solution in the world: it delivers over 55 actives in a single bottle that is lightweight and appropriate for all skin types. Apply it twice a day and effective skincare with excellent results is assured!
What is Dr. Macrene's Skincare Regimen?
We asked Dr. Macrene, the dermatologist who cares for Hollywood's most beautiful faces, to reveal what she applies daily — and what ingredients really move the needle when it comes to the health and glow of her own complexion. In the video below she goes over her tried-and-true routine.
"I believe I've made procedures obsolete and replaced them with active ingredients." —Dr. Macrene
Dr. Macrene Reveals the Secret to Her Ageless Skin
Lest you think the doctor has genetics to thank for her smooth skin, she is quick to correct you. "I've had my genetic analysis done," says Dr. Macrene. "I'm supposed to look four years older than I am, based on my telomerase activity." For this reason, she included anti-telomerases in the MACRENE actives High Performance Serum alongside many DNA restoring actives. The serum keeps the clock wound tight on her skin and yours!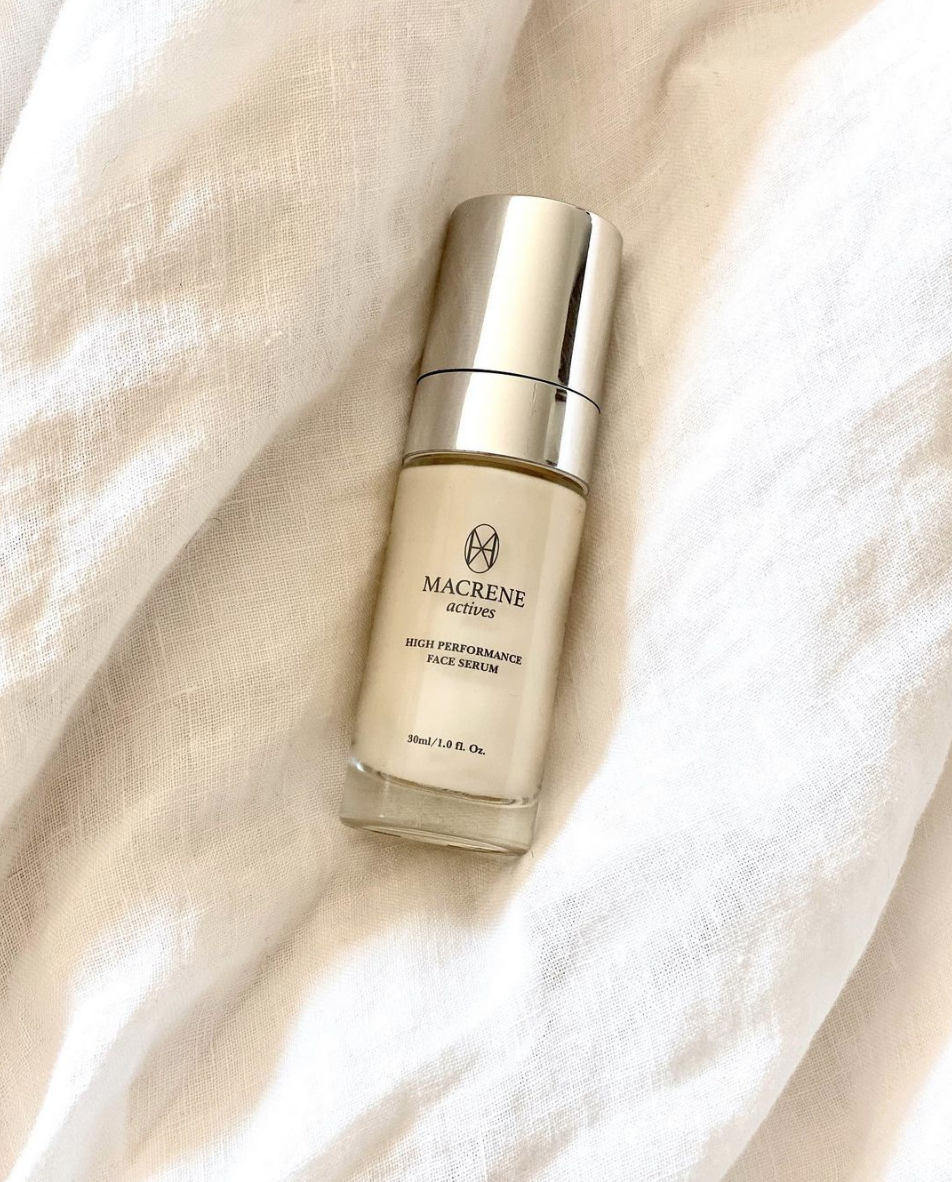 She nourishes her skin with 130+ active ingredients.
After cleansing with the High Performance Cleanser, Dr. Macrene pats dry her face and immediately applies her High Performance Face Cream, followed by the High Performance Serum, equalling over 130 active ingredients." Starting in our mid-20s, our skin's ability to rejuvenate itself declines; adding topical DNA-repairing ingredients is into your routine is the best and most permanent way to reverse the signs of aging and to restore useful skin health and skin quality," says Dr. Macrene. "To do this, I included plant-derived DNA-repairing molecules in the High Performance Serum, which work to fight off the damage due to the barrage of ultraviolet rays, stress and toxic exposures. I apply my serum around the eyes to the forehead and especially the jawline. This serum is proven to firm and lift the skin, it also prevents and improves the appearance of eyelid fine lines and wrinkles."
Why she loves the High Performance Serum:
The technology used in the serum has won a Nobel Prize for its DNA-repair prowess. It actively restores the skin so that your skin ages in reverse and remains healthy for the duration of your lifetime. Dr. Macrene recommends starting using the serum early. "The earlier you start using the High Performance serum, the better. We have learned that there's damage to DNA in the skin as early as our 20s, so it's important to start DNA repair as soon as possible. I recommend twice daily application starting in your 20s and throughout your lifetime to maintain and restore useful skin quality," says Dr. Macrene.