An aspect of skin aging that is rarely talked about is the gradual transformation the nose goes through as we age. "People notice that their noses droop and get bigger. One of the reasons for these unwanted changes is the loss of the underlying structure of the nose, including the loss of collagen and cartilage support.  Another reason is that the nose may repeatedly swell due to rosacea, pregnancy, and alcohol consumption, and eventually this puffiness causes subtle scar tissue to build up. Therefore, it's really important to maintain really good skincare to prevent repeated swelling of the nose and to replenish the skin structure so that the skin stays lifted and firm," says Dr. Macrene. "I formulated the High Performance Serum with these important targets for countering nose aging when used twice daily."
Your One-Step Skin Firming Action
Yes, Dr. Macrene reports that your nose may droop and enlarge as you age. We consulted with the world renowned Derm-Scientist® and inventor of the Alexiades Comprehensive Grading Scale of Skin Aging— a scale that has been validated and published in the Journal of the American Academy of Dermatology, who explained that our noses droop and enlarge because the collagens in the nasal skin and the cartilage degrade over time.
Although Dr. Macrene has pioneered in-office procedures that can help improve sagging of the nose such as the radiofrequency rhinoplasty—a nose adjustment treatment performed with a laser, or filler to lift the nose, Dr. Macrene has a safer and more efficient at-home solution to help prevent your nose and skin from drooping—the High Performance Face Serum.
The High Performance Serum is an ultra-concentrated firming treatment formulated with 55 clean, plant-derived active ingredients including peptides, micro hyaluronic acids, vitamin C, coffee seed extract, cocoa seed extract, glucosamine, and blue & red algae to effectively turn back the clock of aging and prevent the skin from sagging. Dr. Macrene has combined Nobel Prize winning science and the essence of plant-derived actives in this high-performance treatment. With twice-daily consistent use, applied after the High Performance Cream, you will get visibly lifted and tighter skin, just as if you had a state-of-the-art laser. If you start using the High Performance Serum in your early 20's, it is expected that your nasal skin will stay firm and protected.
MACRENE actives was tested in an institutional review board approved clinical trial and published in the Journal of Drugs in Dermatology.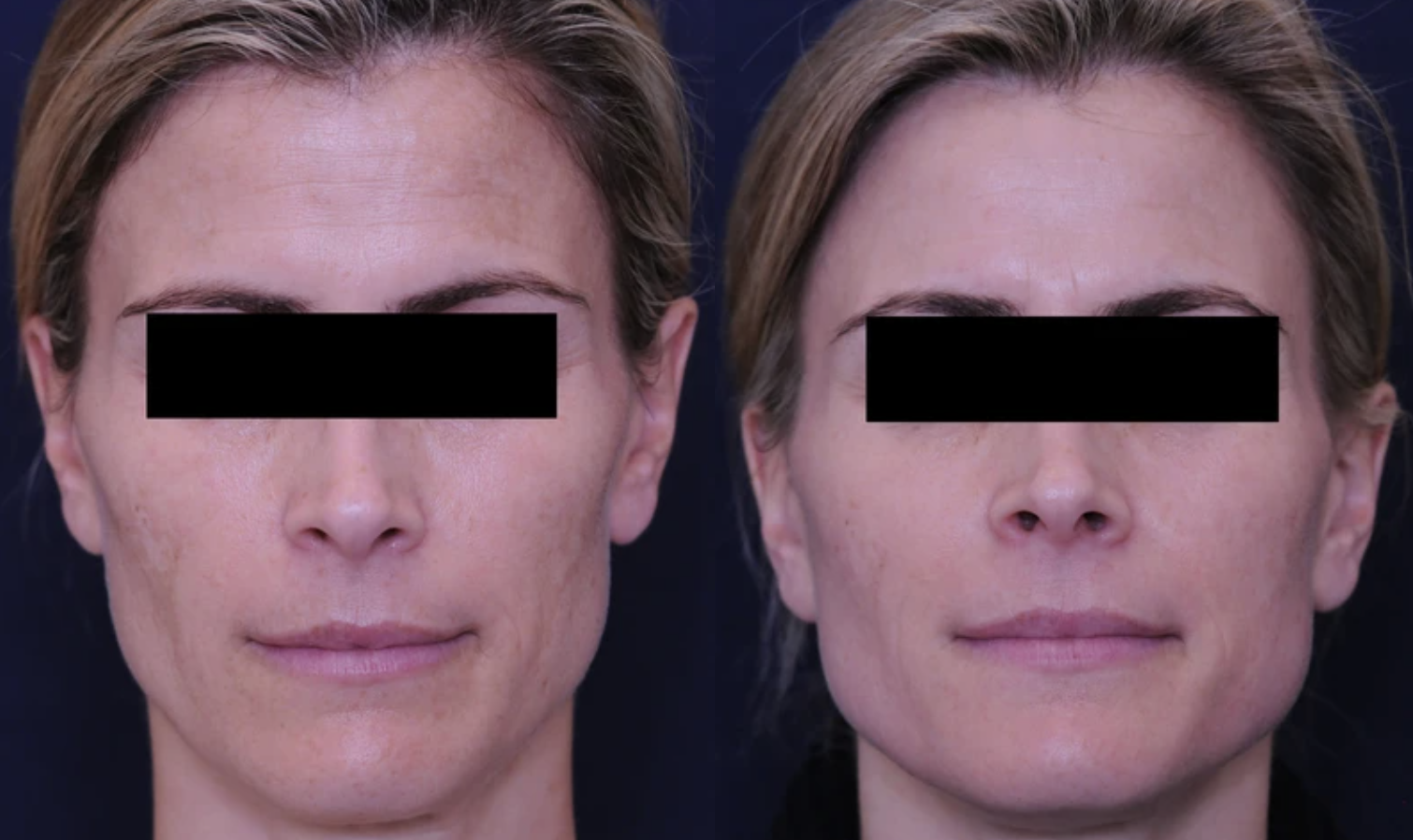 Before (left) and 1-month follow-up (right) clinical photos following twice-daily application of MACRENE actives High Performance Face Cream and Serum after a laser-assisted delivery of MACRENE actives. The patient's skin, including the nose, forehead, and jawline appeared visibly tightened and lifted.